If you're looking for a stunning destination in Greece, Halkidiki Greece should be at the top of your list. I recently had the opportunity to explore this beautiful region on a one-day trip, and I was blown away by its natural beauty and rich culture.
Discovering the Charming Village of Afytos in Halkidiki Greece
My day started in the charming village of Afytos, located on the Kassandra peninsula in Halkidiki Greece. As I walked through the narrow streets, I felt as though I had stepped back in time. The traditional architecture and stone houses spoke of a rich history and culture, and I couldn't wait to explore more.
Sani Beach: A Jewel of the Kassandra Peninsula in Halkidiki Greece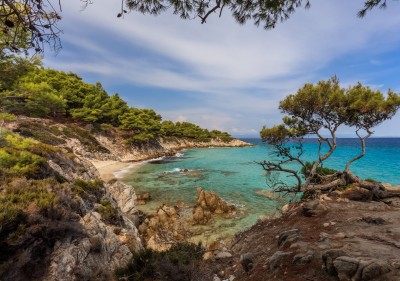 After a delicious lunch at a local taverna, where I indulged in traditional Greek cuisine, I headed to Sani Beach on the Kassandra peninsula in Halkidiki Greece. The golden sand and turquoise waters of the Aegean Sea were breathtaking, and I couldn't resist taking a dip. The warm sun and salty sea air were the perfect combination for a relaxing afternoon.
Indulging in Traditional Greek Cuisine in Halkidiki Greece
As the sun began to set, I headed back to Afytos to explore some more. The evening scene was bustling with locals and tourists alike, all enjoying the warm hospitality of the village. I stumbled upon a local bakery and couldn't resist trying some baklava, a delicious sweet pastry that is a staple of Greek cuisine.
Exploring the Local Culture of Halkidiki Greece
In conclusion, Halkidiki Greece is a must-visit destination for anyone looking to experience the best of Greek culture and natural beauty. Whether you're exploring the charming villages, relaxing on the stunning beaches, or indulging in the delicious cuisine, this region has something for everyone. So why wait? Book your trip to Halkidiki Greece today and experience the magic for yourself.