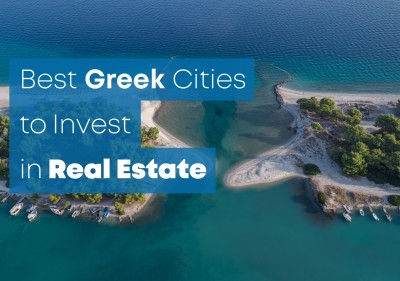 Greece has long been a popular destination for tourists, but did you know that it is also one of the best places to invest in real estate? With its beautiful climate, stunning views and vibrant culture, it is no wonder why people are flocking to Greece to buy property. But with so many cities to choose from, where should you start your search? Let's take a look at some of the top cities for real estate investment in Greece.
Athens
The capital city of Athens is home to more than 3 million inhabitants and is the largest city in Greece. It has recently seen an uptick in real estate prices due to its popularity among tourists, making it an attractive option for investors looking for an opportunity with good returns. In addition, Athens offers easy access to public transportation and numerous entertainment options.
Thessaloniki
The second-largest city in Greece is Thessaloniki, located on the northern coast of the country. This picturesque city is well known for its rich cultural heritage and vibrant nightlife scene. It also boasts one of the most active real estate markets in the country, making it a great place for investors looking for a hot market with potential upside.
Halkidiki
If you're looking for something more serene and laid-back than Athens or Thessaloniki, then consider investing in Halkidiki. This great peninsula off blue and green, placed on the northern mainland offers stunning views and plenty of opportunities for outdoor activities such as hiking and fishing. Property prices here are quite reasonable compared to other parts of Greece, making it a great choice if you're looking for an affordable investment opportunity.
Greece offers plenty of opportunities when it comes to investing in real estate, whether you're looking for a bustling urban environment or something more tranquil. With its vibrant culture, stunning scenery and reasonable prices, investing in property here can be both profitable and enjoyable. Whether you decide on Athens, Thessaloniki or Halkidiki – or any other part of this beautiful country – now is the perfect time to start your search!