Halkidiki is a stunning region in Greece, undeniably. With the growing trend of digital nomads, it provides endless opportunities for those who are looking to escape the hustle and bustle of city life.
What is a Digital Nomad?
Digital nomads are people who work from the comfort of a place they choose to, using telecommunications technology to engage in remote jobs. These people generally have minimal possessions and live life on-the go while traveling frequently for business or pleasure.
The digital nomad lifestyle is one that many find appealing due to its freedom - they are able to explore new places without having any fixed address other than where they are most comfortable.
Digital nomadism has been on the rise so Halkidiki is following. The population of digital nomads increased by 9% in Central & Eastern Europe and that number will only continue to grow as time passes. Property prices reflect this increase too.
Real estate development in Halkidiki had an extreme rise in the last 5 years, so the infrastructure provides endless opportunities for those who are looking to escape the hustle and bustle of city life. As long as there's an internet connection, the nice brand new houses are waiting for new people to get in. This opens up so many more possibilities than those who have to stay rooted in one place with their job.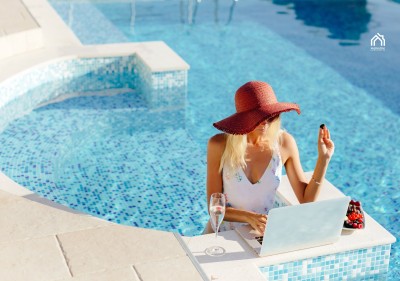 Why Halkidiki?
There is a famous quote in Greece about Halkidiki, "Like Halkidiki, nowhere". Not everyone agrees of course, but there are some strong arguments about it.
So why should a digital nomad choose Halkidiki?
First of all, the natural beauty. The countless beaches with clean and safe waters.
The climate. Most months the climate is good. Sun, clean air and good temperature.
The food. Here you can find many tasty traditional local products like honey, tsipouro, fish, vegetables and wine all over the year. Of course there are supermarkets where you can cook typical Greek food. Ask a local and you'll get some cool tips.
The beaches. 550km of coastline, 85 Blue Flag awards, the prefecture with the most blue flags in Greece amongst Crete, Aegean, Ionian and Pelopponese. Sounds strange? Yes, Halkidiki Prefecture wins that every single year!
The sunsets/sunrises. These moments of the day will give you a great amount of energy. Hundreds of breathtaking views all around Halkidiki which can give you this feeling. Afytos, Sarti, Marmaras, Sani, Parthenonas Village, Vourvourou are amongst the best!
The distances for important places. Airport, big city (Thessaloniki), hospital, vet, etc.
The living cost. House rents, supermarkets, gas, water, electricity and internet connection is economical for a person who works in tech business or owns a business as a digital nomad. Whether you want to rent or buy a house there are plenty of good offers, cheap or expensive. It depends on your needs.
The infrastructures. If you want to continue your daily schedule as it was back in the city, no problem. Gyms, nail artists, hairdressers, cocktail bars, restaurants, ice-cream, personal trainers, bikes, clothes shops, etc. are all here.
And last but not least, the experiences. You can explore this place with a boat and go work with your laptop on private beaches. You can rent a buggy and work in a quiet place in the forest. You can meet people and guide you all around Halkidiki and show you the best places to eat.
No matter where you come from, Halkidiki will be a great part of your journey.
How can you reach Halkidiki?
Halkidiki is a prefecture and there are many places. It is divided in 3 legs (Kassandra, Sithonia and Athos). Athos is a religious place (Ayion Oros), the world famous Holy Mountain, a Greek Orthodox place with many monasteries. The other two, Kassandra and Sithonia are a true masterpiece of mother nature herself. You can come by car, by bus or by plane in Thessaloniki airport and then drive to Halkidiki.
Are there any good houses in Halkidiki if I want to buy?
Yes, there is an advanced construction development in the last 5 years in Halkidiki. There are some nice new houses, renovated or investment opportunities.
More about these houses here.